Are You Ready To Take Your Training To The Next Level?

Individualised, tailored programming and support to align your efforts and direction to achieve your health and fitness goals.

We help you set a goal, build the plan and guarantee your results - no more spinning your wheels.
James
"I've been making great progress which makes training more enjoyable. Didier is really good with communicating things that I can improve on, and also takes on board suggestions and feedback from me really well."
Mollie
"I love how simple and effective Charlie's coaching style is. He doesn't over complicate things. He educates and keeps things real, and I've had crazy results so far!"
Nick
"I love the training vibes, community and the unmatched energy. My coach gives me the confidence to push myself further than I had thought I could"
Lina
"Breaking down technical errors, utilising important cues, and sticking to a well structured program all contributed to the progress I have made. Online coaching with Didier has been one of the best decisions I have made."
There's 2 Main Reasons Why People Don't Get The Results They Want In The Gym
1. They lack information and don't know where to start.


2. They have the information but don't know how to apply it.

Couple these with a stale training environment, no support and no community to motivate and inspire you - is it any wonder why so many aren't where they want to be?
The best results come when you actually care about your training. You set goals and build an actionable plan to move towards them.

What are your goals?

Why do you train?

What inspires your training?

Answer these questions and your training will have meaning. Your effort will increase and lifestyle changes will follow and now you're making gains.

If you're ready for the next step, to get around a community of like minded people, and find inspiration again - it's time to speak to a coach.
Click Here To Speak To A Coach!
Why Strength Culture Coaches Are Some Of The Best In The Industry


We have an experienced team of industry leaders across multiple domains of strength and conditioning.

🥇 We have built national level powerlifters from everyday trainees.
🥇 We have transitioned serious strength athletes into hybrid running and lifting animals.
🥇 We have coached athletes from amateur level to international and Olympic heights.
🥇 We have built Melbourne's strongest training community.
No matter the goal or experience level, we have the skillset that can guarantee your results.
Jamie Bouziotis
My focus is building "the lot" - I never want to feel like I'm pigeonholed into a physical pursuit. I love working with clients looking to push the boundaries of strength and performance both in and out of the gym.
My Current Goal: Peak Strength with Running
Charlie Athanassiou
Having been a national level powerlifter for the past 5 years and totalling 762.5kg, I am now looking to add some variety to my own training and helping those who may feel burnt out or 'stuck' doing the same style of training repetitively.
My Current Goal: Deadlift 320kg & run a marathon
Didier Vassou
I love working with clients looking to achieve specific training and body compositional goals. Combining both nutrition and training strategies to get the best for my clients. I'm always looking to feel and look my strongest while inspiring my clients to do the same.
My Current Goal: 300kg Deadlift at Nationals
Take Your Training To The Next Level With The Support Of Our Experienced Coaches

Having a training goal is only half the battle - the support and accountability from experienced coaches will guarantee your result!

✅ Direct weekly access to your coach to keep you accountable to the training and nutrition plan.
✅ Individualised programming built for you and your goals.
✅ Fortnightly video check-ins for lifting technique reviews, nutrition & programming adjustments and explanations. This education is paramount to your success long term.
✅ End of block reviews for plan management and adjustments to ensure progress is being made and that the initial plan is still most productive.
✅ Access to our community of like-minded, goal-driven trainees. Half the battle of making progress is being surrounded by others pushing you along.
✅ Access to a bunch of exclusive content that only our community can access via our Coaching App.


🔥 Limited Offer 🔥
3x FREE 1-on-1 personal training sessions to ensure you are equipped with the strongest techniques.


Two Most Popular Ways To Work With Us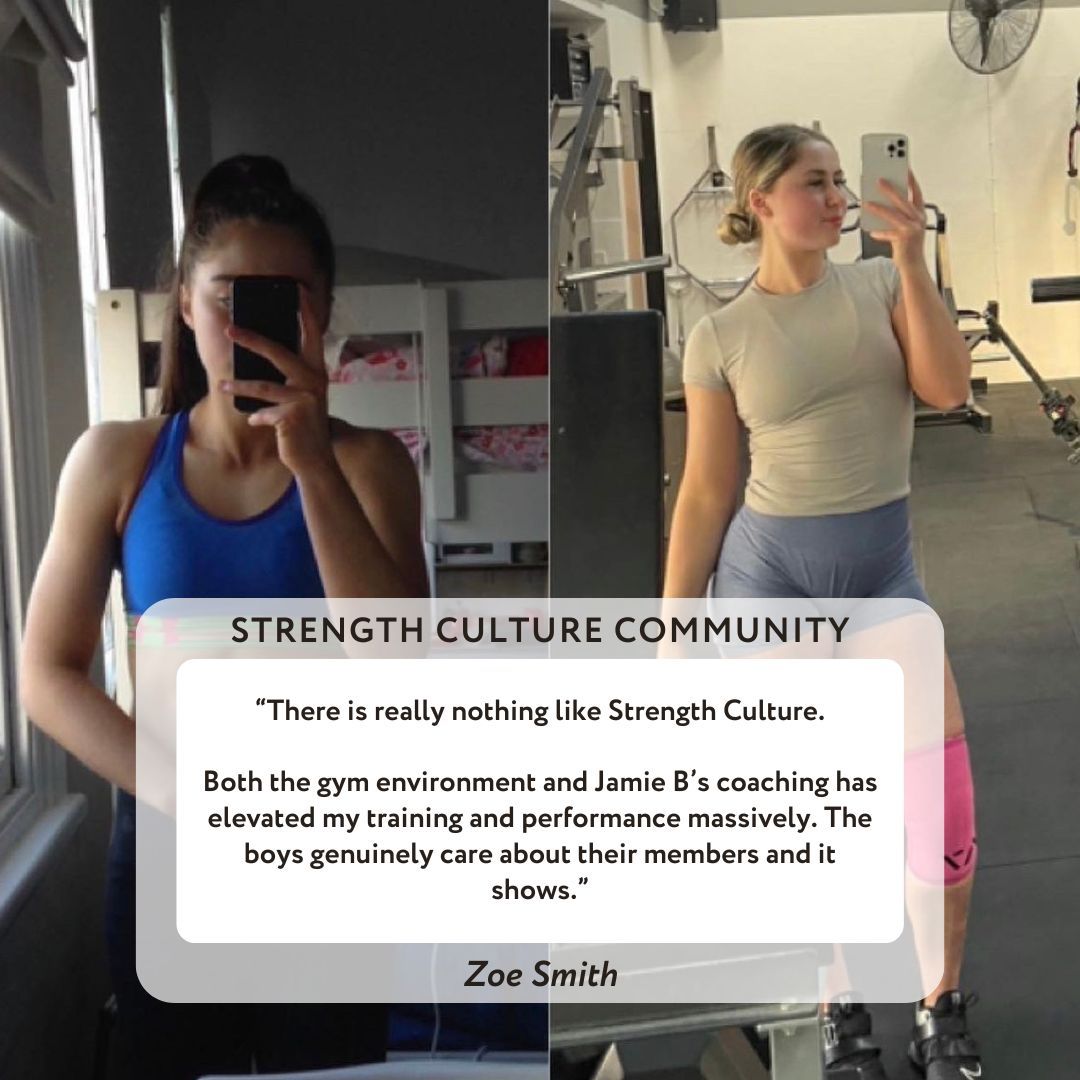 Our Clients Get Access To Our World Class Coaching App
Packed with data-tracking software and exclusive education on nutrition, recovery and lifting technique. We have over 400 exercise in our library with tips and tricks to get the most out of your training.
"No Gains = No Pay"
100% Money Back Guarantee
We are confident that anyone with the right goal, plan and action will have success that we are willing to back ourselves and put our money where our mouth is.
If you do not see any performance gains over your first 12 weeks of the coaching journey, we'll personally deposit the full amount paid back into your account.
In order for us to offer this guarantee, you need to be able to fulfil the program to its full capacity which means participating in goal-setting, track everything in your coaching app as required, and communicate to your coach when expected. If you've done all this and still have not seen any gains over the initial 12 weeks, then we'll personally refund every dollar paid.
It's pretty simple - don't waste our time and we won't waste yours.
To Speak To A Coach - Click Here!